Floor tile using glass mosaic
As functional as it is beautiful, glass tile can provide an impressive rejuvination from the ground up...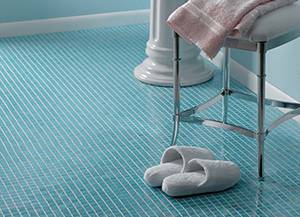 Choose a solid hue or mosaic blend to add a gorgeous burst of color or create a custom design for a space that will stand out from the rest.
Visit our floor tile photo gallery for design ideas and inspiration...
Or browse the product lines shown below, all of which have specific suitability for floor tile applications from light-to-medium traffic areas.

(contains recycled glass!)


(contains recycled glass!)